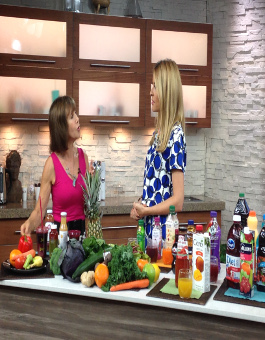 ;
Breakfast Television: To Juice or Not to Juice?
Juice bars seem to be popping up everywhere, but are all juices created equally? From organic & cold-pressed to the supermarket shelves, I break down what you need to know about juicing on Breakfast Television ...
Newest Episodes
Breakfast Television: BBQ 101 with Rose Reisman
Think you know all the tips and tricks for grilling up the best meals on the BBQ? Check out Rose's tips on how to be the ulitmate grillmaster, from the healthiest cuts of meats to how to properly marinade! ...
Breakfast Breakdown: Choose It and Lose It Fast Food Breakfasts with Rose Reisman
Breakfast is the most important meal of day – it's important for our blood sugar levels and to maintain focus throughout the day. A good breakfast includes fibre and lean protein, not excess fat,  saturated fat, sodium or sugar. Most ...
Sugar Shock-The Lowdown on Sugar and Sweeteners on Breakfast Television
Sugar,  Substitutes and HFCS: What's Healthier? Average person consume 130 lb sugar yearly  =  10 lb per month Daily =  30 tsp vs 8 tsp recommended Typical sugar amounts: Beverages: Movie theatre cola = 35 tsp ...
Choose It and Lose It Vegetarian Dishes
Vegetarianism is a common diet these days with approximately  4% of population or 1.5 million going meatless. There are many different reasons why people choose to eat this way:– environmental, health, animal rights. A vegetarian diet can lower risk of ...
Get Salad Savvy with Rose Reisman on Breakfast Television
Think choosing a salad when dining out at your favourite restaurant or fast food joint is a healthy choice? Not always! Rose Reisman gives you the low down on where the hidden calories are coming from and which entree salads ...
Bar Bites On Breakfast Television
Bar food is a common guilty pleasure. Who can resist indulging while having a pint with friends? If you chow down too often however, it can lead to 10-12 pounds gained a year! Patio season is just around the corner, ...
Pub Grub on Cityline
With the Olympics having finished up recently and St. Patrick's Day just around the corner, we often find ourselves celebrating over a pint and plate of nachos with our friends in the local pub. All that good cheer can add ...
Snacking Report Card on Breakfast Television
We're obsessed with snacks, often with it making up 1/3 of our daily calories (Approx. 600). Grazing throughout the day can be great – if you do it right. Smart snacking means you have energy, are taking in important nutrients ...