Eat Healthier With PC Blue Menu on CHCH
It's not just about watching calories and fat when trying to eat healthy, it's about getting more of the good stuff, like protein & fibre. President's Choice Blue Menu items make it easy for fast & healthy meals during the week – check out products & recipes on CHCH!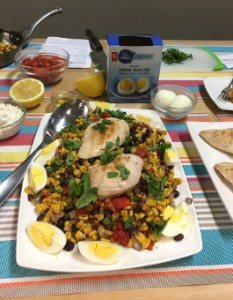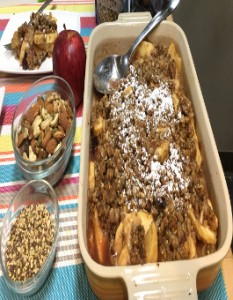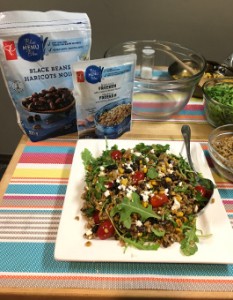 Apple Crisp with Dried Cranberries and Trail Mix
Makes 12 servings
6 medium baking apples, peeled, cored and cut into 1/4-inch slices
1/2 cup granulated sugar
1 cup packed brown sugar, divided
1/2 cup dried cranberries
2 Tbsp cornstarch
1 1/2 tsp ground cinnamon, divided
2 Tbsp fresh lemon juice
TOPPING
3/4 cup all-purpose flour
3/4 cup large rolled oats
1/2 cup chopped PC® Blue Menu™ Trail Mix
2 Tbsp PC® Blue Menu™ Ancient Grains & Super Seeds Blend
½ cup vegetable oil
2 Tbsp water
Preheat the oven to 375°F. Lightly spray a 9 × 13-inch baking pan with vegetable oil.
In a bowl, combine the apples, granulated sugar, ⅓ cup brown sugar, dried cranberries, cornstarch, 1 tsp cinnamon and lemon juice and toss until the apples are well coated. Spread evenly over the bottom of the prepared pan.
In another bowl, stir together the flour, ⅔ cup brown sugar, rolled oats, PC Blue Menu Ancient Grains & Super Seeds Blend, pecans, oil, water and the remaining cinnamon (the mixture should be crumbly). Sprinkle evenly over the apples.
Bake in the center of the preheated oven for 25 to 30 minutes, until the topping is crisp and golden and the apples are tender.
Brown Rice, Arugula and Black Bean Salad
Makes 8 servings.
1 cup PC® Blue Menu Brown Rice and Freekeh with Roasted Chicken Flavour
2 tsp vegetable oil
½ cup chopped onion
½ tsp crushed garlic
½ cup fresh, canned or frozen corn
1 cups grape tomatoes
¾ cup frozen PC® Blue Menu™ Black Beans (cooked according to package)
2 cups arugula
1/3 cup crumbled reduced-fat feta cheese
1 Tbsp olive oil
2 Tbsp lemon juice
pinch of salt and pepper
¼ cup chopped cilantro or parsley
Microwave Brown Rice and Freekeh according to package. Place in serving bowl..
Meanwhile in a large skillet, add the oil and onion and sauté for 5 minutes until tender. Add the garlic and corn and sauté until the corn begins to brown. Add the tomatoes and cook until slightly charred (about 3 minutes).
Add the beans, arugula, feta, olive oil, lemon juice, salt and pepper, cilantro and rice to bowl.
Fresh Corn and Black Bean Salad with Wild Rice and Mushroom Stuffed Chicken Breast
Serves 4
SALAD
3 fresh cobs of corn
1 cup frozen
PC® Blue Menu™ Black Beans
1/2 cup diced red onion 1/2 cup diced roasted red pepper (about 1 small roasted red pepper) 1/2 cup chopped fresh basil
DRESSING
2 Tbsp olive oil
1 Tbsp apple cider vinegar 1 1/2 tsp finely chopped jalapeño pepper 1 tsp finely chopped garlic pinch of salt and pepper
4 PC® Blue Menu Wild Rice and Mushroom Stuffed Chicken Breast
Lightly coat a grill pan with cooking spray and set over medium-high heat, or heat your barbecue to medium-high heat. Grill the corncobs for about 5 minutes, or until the corn begins to brown. Using a sharp knife, slice the niblets off of the cobs and place in a bowl.
Add the black beans, red onion, roasted red pepper and basil to the corn and stir to combine.
To prepare the dressing, whisk together the olive oil, cider vinegar, jalapeño, garlic, salt and pepper. Pour the dressing over the salad and toss to combine.
Heat the chicken breasts according to package directions. Divide corn and bean salad over 4 plates and top with chicken breast.
*Rose Reisman is a paid spokesperson for PC® Blue Menu™.