Personal Gourmet
Created by Rose Reisman, Personal Gourmet is a daily food delivery service designed for people who want to eat healthy, great-tasting food! We offer both fresh and frozen delivery plans for weightloss and healthy living, as well as a corporate food program.
The meals are properly balanced with the four major food groups based on the Canada Food Guide and the American Heart Association.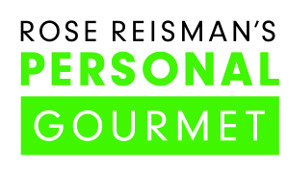 Personal Gourmet is an extraordinary ally in decreasing or maintaining your weight, because the meals are prepared to your personal requirements – the portion sizes are tailored to your metabolism and weight goals. You can satisfy your appetite with a healthy quantity of food because it's good food, wholesome and nutritious. The menu is always changing so you'll never get bored, and the food is always delicious because Rose Reisman really understands and believes that food is all about enjoyment.
Personal Gourmet Fresh
Personal Gourmet has created a healthy balanced food program that allows you to keep all the great taste of gourmet food while learning how to eat properly and healthily. You'll notice that there's plenty of variety, so you never get tired of the food. Not only will you lose weight or maintain a healthy lifestyle, but you'll be eating delicious, healthy food while you do it!
Click here for Personal Gourmet Fresh and choose from Healthy Living, Gluten Free or Weight Loss Plans.
Personal Gourmet Frozen
Meal planning made simple and hassle free! Choose our frozen meals.
No preservatives or chemicals! Just tasty homemade cooking.Meals are delivered frozen in vacuum sealed packaging to retain maximum freshness. Our packaging allows you to keep food fresh in the refrigerator for 2 days or to freeze for as long as you need.Two ways to enjoy Personal Gourmet Frozen
Healthy Living: Select healthy meals that fit your lifestyle in various sizes from our Frozen Supermarket

Weight Loss Plan: Personalized Calorie Level Plan is created to allow you to reach your weightloss goals
Click here for Personal Gourmet Frozen
Discover the many kinds of delicious, healthy food that could be delivered right to your door at www.personalgourmet.ca.
Save