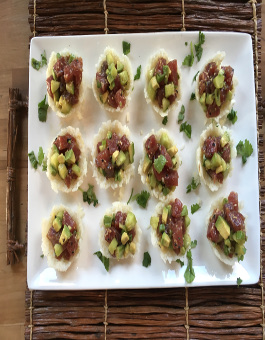 This version of sushi is a real showstopper.  Try it for your next appetizer.
INGREDIENTS
1 cup sushi rice
1 ¼ cups water
2 Tbsp rice wine vinegar
1 Tbsp sugar
¼ tsp salt
1 oz softened light cream cheese

2 Tbsp light soy sauce
2 tsp sesame oil
½ cup cubed seeded peeled cucumber
½ cup diced ripe avocado

2 green onions diced
12 oz ahi tuna
2 tsp black and white sesame seeds


INSTRUCTIONS
1. Bring sushi rice and water to a boil. Cover and simmer on lowest heat for 10 minutes. Turn off heat and let sit for another 10 minutes covered.
2. Add vinegar, sugar and cream cheese to hot rice and stir until well mixed.
3. Line a 12 muffin cup with parchment paper, lining the bottom and sides. When rice has cooled, divide amongst 12 cups and pat into bottom and up sides. Cover well and refrigerate for 30 minutes.
4. Meanwhile, combine all remaining ingredients and divide amongst rice cups. Best to serve within 30 minutes.

NOTES
Makes 12 cups

Nutritional Information per Serving
Calories 100
Fat 2.5g
Saturated Fat 0g
Cholesterol 5mg
Sodium 160mg
Carbohydrate 15g
Fibre 1g
Protein 3g