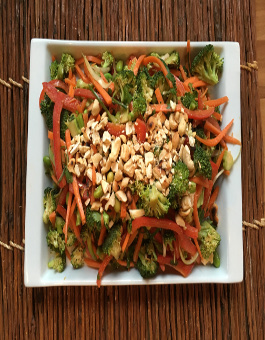 An easy, flavourful and healthy salad you can make any night of the week.
INGREDIENTS
6 cups chopped broccoli (florets and stems)
2 cups thinly sliced red bell pepper
2 cups thinly sliced carrots
1 ½ cups shelled edamame
½ cup chopped green onions

Dressing
2 Tbsp hoisin sauce
1 Tbsp fresh lemon juice
2 Tbsp low-sodium soy sauce
1½ tsp minced garlic
1 tsp chopped ginger
1½ tsp honey
½ tsp hot sauce

Garnish
Chopped cashews


INSTRUCTIONS
1. Combine all ingredients together in a bowl and mix.
2. Dressing: combine all dressing ingredients and mix well. Pour over top of vegetables and toss. Serve.

NOTES
Serves 6

Nutritional Information per Serving
Calories 130
Fat 2g
Saturated Fat 0g
Cholesterol 0mg
Sodium 290mg
Carbohydrate 20g
Fibre 7g
Protein 8g