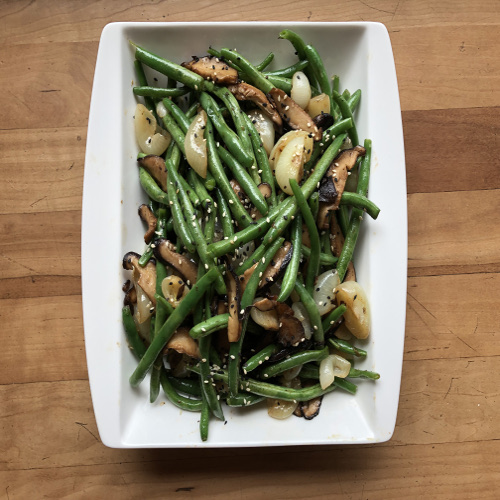 Wonderful, Asian inspired flavours – green beans, mushrooms and cipollini onion with sesame dressing.
INGREDIENTS
½ lb wild mushrooms sliced
2 tsp oil
1 lb Cipollini onions
1/3 cup vegetable or chicken stock
2 lb trimmed green beans
1 tbsp sesame oil
1 tbsp soy sauce
Dash salt and pepper


INSTRUCTIONS
1. In a large skillet sprayed with vegetable spray, add mushrooms and oil, and sauté on medium heat until mushrooms lose their moisture, about 8 minutes.
2. Peel onions and slice in half. Add to mushrooms and sauté on medium low heat for about 10 minutes until soft and caramelized, stirring often.
3. Add stock and continue cooking, covered on a low heat for another 15 minutes, until soft.
4. Boil or microwave green beans for about 3 minutes or just until beans are still crispy and bright green. Drain and add to onion-mushroom mixture along with sesame oil, soy sauce and salt and pepper.

NOTES
Prep Time: 15 minutes
Cook Time: 35 minutes
Nutritional Information per Serving
Calories 160
Fat 3g
Saturated Fat 0g
Cholesterol 0mg
Sodium 160mg
Carbohydrate 30g
Fibre 12g
Protein 8g