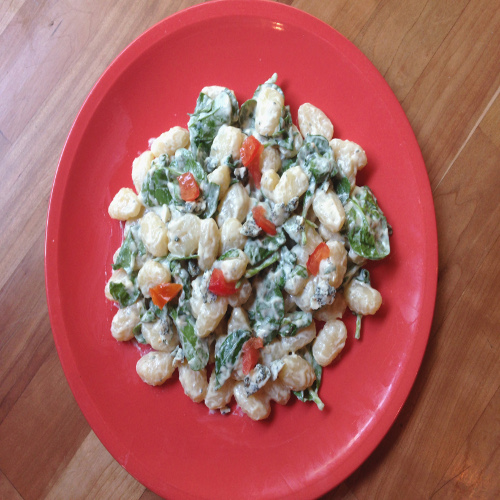 A twist on a favourite Italian dish!
INGREDIENTS
Blue Cheese Sauce
2⁄3 cup crumbled blue cheese (2 oz)
1⁄3 cup reduced-fat sour cream
1⁄3 cup 2% milk
3 Tbsp reduced-fat mayonnaise
¼ tsp crushed garlic
pinch of salt and pepper

1 lb gnocchi
1 cup fresh spinach
1/3 cup diced tomato


INSTRUCTIONS
1. To make the sauce: In a small food processor, purée the cheese, sour cream, milk, mayonnaise, garlic and salt and pepper until smooth or chunky, depending upon your preference.
2. Bring a pot of water to a rapid boil. Add gnocchi. Bring back to a boil for 3-5 minutes. Drain well.
3. Pour sauce over gnocchi and top with spinach and tomatoes. Mix well and serve.


NOTES
Serves 6

Preparation time: 10 minutes
Cook time: 10 minutes

Nutritional Information per Serving
Calories 187
Fat 2.6g
Saturated Fat 1.6g
Cholesterol 10mg
Sodium 457mg
Carbohydrates 33.1g
Fibre 2g
Protein 6.1g