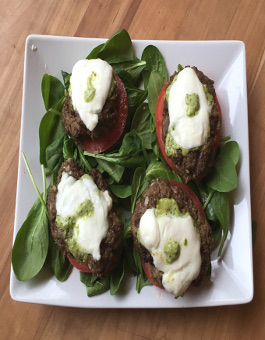 An Italian-twist on a summer staple.
INGREDIENTS
Burgers
1 lb ground beef
3 Tbsp minced onion
¼ cup dry seasoned breadcrumbs
¼ cup pesto sauce
1 tsp minced garlic
1 egg
1 tsp dried basil
Salt and pepper

4 slices buffalo mozzarella
2 Tbsp pesto sauce
1 Tbsp light mayo
4 slices field tomatoes
4 basil leaves

Optional
4 burger half buns


INSTRUCTIONS
1. Mix all ingredients for burger together and make 4 burgers. Grill until almost ready. Place mozzarella over top and cook for another couple of minutes.
2. Mix pesto and mayo and spread over buns. Place burger over top and garnish with tomatoes and basil.

NOTES
Serves 4

Nutritional Information per Serving
Calories 406
Carbohydrates 8.8 g
Fibre 1.8 g
Protein 34 g
Total fat 24.4 g
Saturated fat 6.9 g
Cholesterol 141 mg
Sodium 362 mg