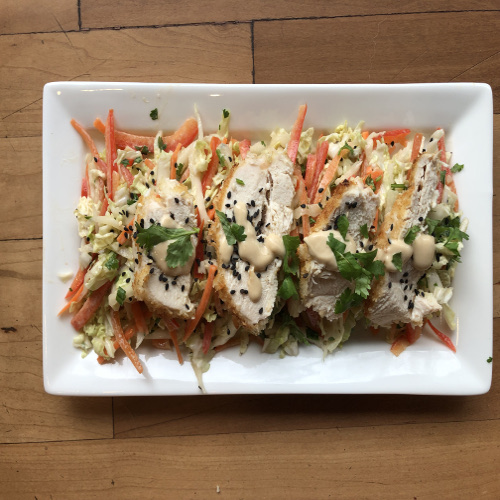 This is a wonderful weekday meal.  Quick and easy preparation.  Healthy and delicious!
INGREDIENTS
1 ½ lb boneless chicken breast
1 egg
2 tbsp water or milk
½ cup seasoned bread crumbs
2 tsp vegetable oil

Sauce:
¼ cup light mayonnaise
¼ cup lower fat sour cream
4 tsp sesame oil
4 tsp light soy sauce
¼ cup water
1 tbsp tahini paste

Homemade coleslaw:
3 cups thinly sliced red or green cabbage
1 cup grated carrot
1 ½ cups red peppers thinly sliced
2 tsp sesame seeds


INSTRUCTIONS
1. Combined egg and water. Place on a large dish. Place breadcrumbs on another plate.
2. Dip chicken in egg wash, then breadcrumbs.
3. Heat a large skillet, add oil and sauté chicken for 2 minutes per side.
4. Preheated oven to 400 F. Place chicken on a baking sheet lined with foil. Bake for about 10 minutes or until temperature reaches 160 F. Cool and slice into medallions
5. Sauce: - combine mayonnaise, sour cream, sesame oil, soy sauce, water and tahini paste until smooth.
6. Add half sauce to coleslaw along with red pepper and cilantro. Place slaw on the plate, add chicken and drizzle with some leftover sauce.

NOTES
Calories 320
Fat 13g
Cholesterol 110mg
Sodium 490mg
Carbohydrates 18g
Sugars 6g
Protein 32g