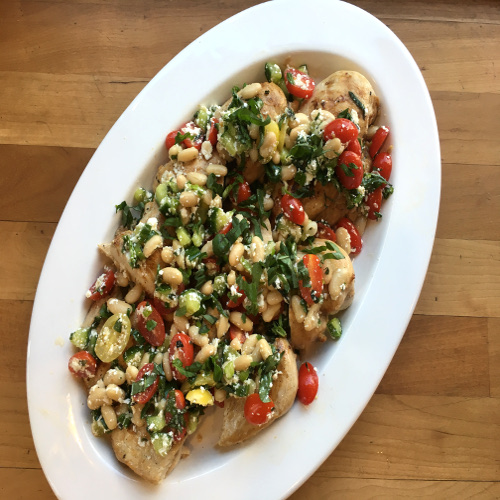 This Chicken with White Bean and Tomato Bruschetta recipe is a fresh take on an Italian favourite.
INGREDIENTS
4 boneless and skinless chicken breasts

Bruschetta
½ cup white kidney beans canned, drained and rinsed
1/3 cup diced seeded cucumber
1 1/2 cups cherry tomatoes, sliced
1 tbsp finely chopped green onions
1 tbsp chopped fresh basil
1 tbsp olive oil
2 tsp lemon juice
½ tsp chopped garlic
1 oz crumbled feta cheese
Salt and pepper


INSTRUCTIONS
1. Combine all the ingredients for the bruschetta in a bowl and mix well.
2. Grill or roast the chicken breast at 400 F, just until temperature reaches 160 F, about 15 minutes.
3. Spoon bruschetta over chicken and serve.

NOTES
Serves 4

Nutritional Information per Serving
Calories 217
Fat 6.5g
Saturated Fat 2g
Cholesterol 75mg
Carbohydrates 7.5g
Protein 31g
Sodium 157.5mg
Fibre 2g