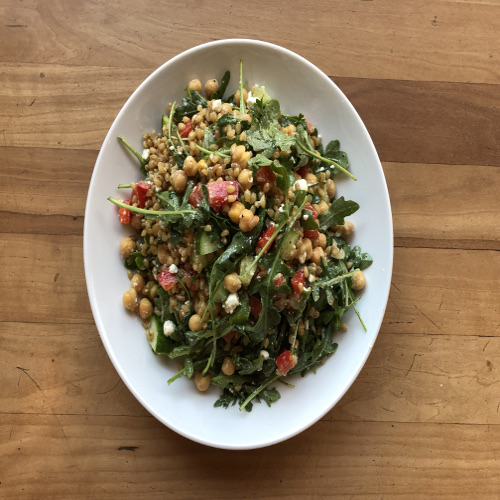 A twist on a traditional Greek Salad.  This salad is packed with superfoods!
INGREDIENTS
1 cup uncooked farro
4 cups arugula
1 cup chickpeas, drained and rinsed
½ cup diced red pepper
½ cup diced cucumber
1/2 cup crumbled feta cheese
1 tsp minced garlic or 1 large garlic clove
3 Tbsp olive oil
3 Tbsp lemon juice
Salt and pepper


INSTRUCTIONS
1. In a pot, cover farro with water and bring to a boil. Lower heat, cover and simmer for 25-35 minutes until slightly tender. Drain and rinse with cold water. Place in serving bowl.
2. Add arugula, chickpeas, red pepper, cucumber, feta, garliuc, oil, lemon and salt and pepper, toss well.