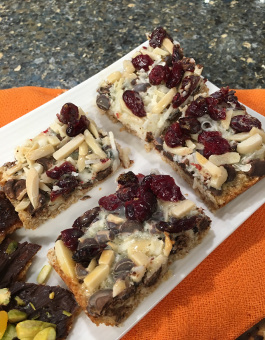 A classic favourite dessert modified for Passover!
INGREDIENTS
Crust
2 cups matzo meal
3 Tbsp sugar
3 Tbsp oil
2 Tbsp water
1 cup semisweet chocolate chips
¾ cup dried cranberries
½ cup pecans, chopped
½ cup flaked coconut (sweetened)
1 (14oz) can low fat sweetened condensed milk


INSTRUCTIONS
1. Preheat oven to 350F.
2. Mix matzo meal, sugar, oil and water until crumbs hold together. Add more water if needed. Pat into 9" x 13" baking dish sprayed with vegetable oil.
5. Sprinkle the chocolate chips evenly over the top.
6. Next, sprinkle the cranberries, and then the pecans. Finally, sprinkle the coconut evenly over the top.
7. Drizzle the sweetened condensed milk evenly over the chips.
8. Bake for about 20-25 minutes until golden brown.
9. Cut into 24 squares and serve.