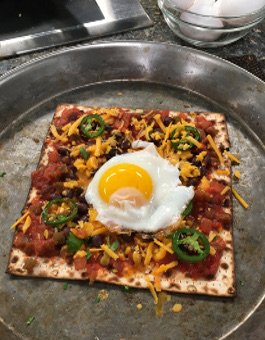 Huevos Rancheros, Passover-style!
INGREDIENTS
1 matzo
3 Tbsp salsa
¼ cup black beans
1 Tbsp sliced jalapenos
1/3 cup grated Monterey or cheddar cheese
1 egg
Garnishes
Cilantro
Salsa
Green onions


INSTRUCTIONS
1. Preheat oven to 425F. Place matzo on baking sheet. Spread salsa, black beans, jalapenos and cheese over top. Bake for 5 minutes.
2. Meanwhile, fry egg in greased skillet just until loosely cooked, about 3 minutes on medium heat. Slip egg over top and garnish with cilantro, salsa and green onions.