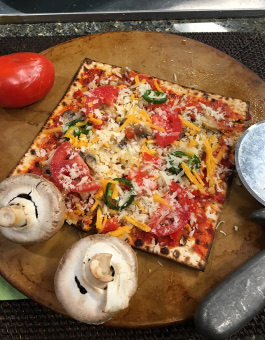 Make more with matzo with this pizza recipe, perfect for a unique addition to Passover celebrations.
INGREDIENTS
1 matzo sheet
3 Tbsp tomato sauce
¼ cup grated mozzarella cheese
Optional Toppings
Sliced mushrooms
Tomatoes
Bell peppers


INSTRUCTIONS
1. Preheat oven to 375°F.
2. Line a baking sheet with foil and spray with non-stick spray.
3. Place matzo on baking sheet and spread tomato sauce evenly on matzo.
4. Sprinkle with cheese and any toppings of your choice.
5. Bake for 10 minutes until cheese melts.