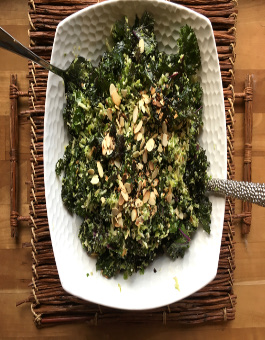 A homemade dressing paired with these nutritious greens makes for delicious salad that even your most veggie-averse guests will love!
INGREDIENTS
1 large bunch kale, centre stem discarded and thinly sliced
1 lb trimmed Brussels sprouts, finely grated or shredded with knife
½ cup olive oil
¼ cup lemon juice
2 Tbsp Dijon mustard
Salt and pepper
1 small garlic clove, minced
1/3 cup toasted sliced almonds
1 cup grated Parmesan cheese


INSTRUCTIONS
1. Add kale and Brussels sprouts to large bowl.
2. Combine oil, lemon juice, mustard, salt and pepper and garlic until smooth.
3. Add to salad and massage with fingers for 2 minutes until kale leaves become tender.
4. Add almonds and cheese. Toss and serve.

NOTES
Serves 10

Nutritional Information per Serving
Calories 220
Fat 16g
Saturated Fat 3.5g
Cholesterol 10mg
Sodium 310mg
Carbohydrates 13g
Fibre 4g
Protein 8g