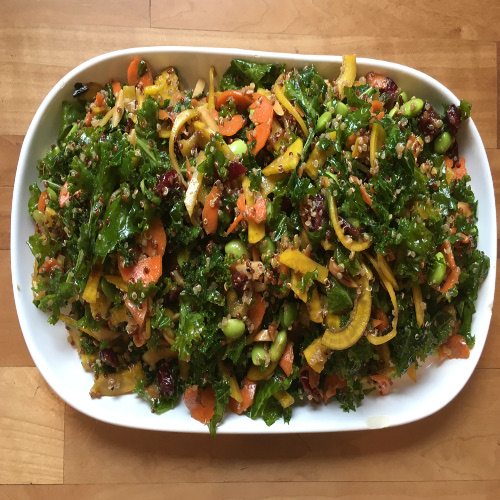 Light, fresh and heart-healthy!  This superfood salad will keep you satisfied!
INGREDIENTS
4 cups curly kale chopped
2 cups cooked quinoa
2 yellow or orange beets spiralized or grated
2 large carrots spiralized or grated
1 ½ cups blanched shelled edamame
1/3 cup dried cranberries
1/3 cup toasted sliced almonds
Dressing
3 Tbsp olive oil
1.5 Tbsp balsamic vinegar
1.5 Tbsp reduced-fat mayonnaise
1 Tbsp honey
½ tsp finely chopped garlic
½ tsp Dijon mustard
pinch of salt and pepper


INSTRUCTIONS
1. Combine all salad ingredients in a bowl.
2. To make the dressing: combine all ingredients and mix well.
3. Pour dressing over salad and toss.

NOTES
Serves 8

Nutritional Information per Serving
Calories 240
Fat 10g
Saturated Fat 1g
Cholesterol 0mg
Sodium 150mg
Carbohydrate 31g
Fibre 6g
Protein 8g