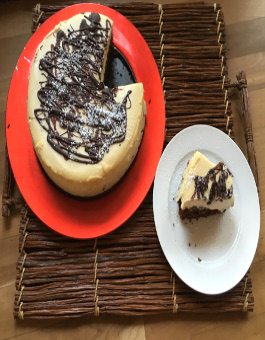 Cheesecake or chocolate cake – why choose just one? A lighter way to make the ultimate dessert.
INGREDIENTS
Cake
1/3 cup semi-sweet chocolate chips
1/4 cup hot water
1/2 cup packed brown sugar
1/2 cup granulated sugar
1/3 cup vegetable oil
2 eggs
2 tsp vanilla extract
1/2 cup cocoa powder
3/4 cup low-fat sour cream
1/4 cup light mayonnaise
1 cup all-purpose flour
1 1/2 tsp baking powder
1/2 tsp baking soda

Cheesecake
2 – 8 oz light cream cheese packages
1 cup ricotta cheese
1 cup sugar
2/3 cup light sour cream
2 large eggs
3 Tbsp flour
1 ½ tsp vanilla



INSTRUCTIONS
1. Preheat the oven to 350°F. Lightly coat a 9-inch springform pan with cooking spray.
2. Combine the chocolate chips and hot water in a small bowl. Microwave on High for 30 seconds. Mix until smooth.
3. In a large mixing bowl, combine both sugars and the oil, eggs and vanilla with a whisk until smooth. Add the cocoa powder, sour cream, mayonnaise and melted chocolate. Mix until combined. Add the flour, baking powder and baking soda. Mix just until combined. Bake for 25-30 minutes or just until tester is no longer wet.
4. Puree cheesecake ingredients until smooth. Pour over chocolate cake mixture. Fill a baking pan with water and put on lowest rake in oven. Place cake on middle rack of oven and bake for about 40 minutes or until centre of cheesecake still slightly jiggles. Chill before serving.

NOTES
Serves 20

Nutritional Information per Serving
Calories 260
Fat 12g
Saturated Fat 5g
Cholesterol 60mg
Sodium 170mg
Carbohydrates 33g
Fibre 1g
Protein 7g