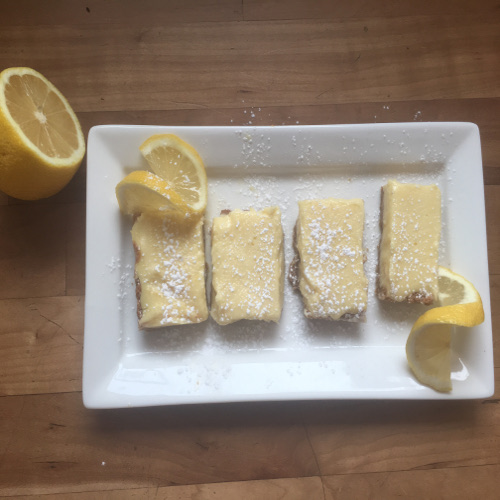 Lemon adds a freshness to desserts.  A few ingredients are all you need to make these lemon squares.
INGREDIENTS
Crust:
1 cup graham cracker crumbs
2 tbsp granulated sugar
¼ cup oil

Lemon Filling:
3 egg yolks (room temperature)
1 (14oz) can sweetened condense milk
½ cup lemon juice
¼ tsp salt
1 lemon zest

Garnish:
Lemon slices (optional)



INSTRUCTIONS
Instructions:
1. Pre-heat the oven to 350 F. Combine crumbs, sugar and oil until mixture sticks together. Add some water if too crumbly.
2. Press the graham cracker mixture into the bottom of 8"x 8"square baking pan.
3. Bake for 10 minutes and allow to cool slightly, while leaving the oven on.
4. For the lemon filling: Add the egg yolk to a mixing bowl and using a stand or hand mixer, beat for a few minutes.
5. Mix in the sweetened condensed milk, lemon juice, salt and lime zest
6. Pour the mixture into the graham cracker crust and return to oven for 10 to 12 minutes, or until set.
7. Cool and then refrigerate for 4 hours.
8. Slice into bars and serve with a wedge of lemon on top (if desired).

NOTES
Serves 12
Prep time: 10min
Cook Time: 20-25min

Calories 180
Fat 5g
Cholesterol 95mg
Sodium 135mg
Carbohydrates 28mg
Protein 4mg