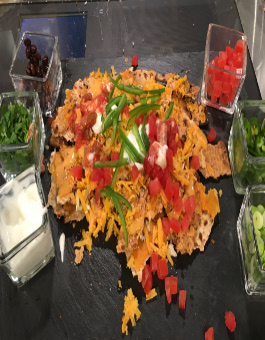 Matzo nachos are so easy and so delicious – the entire family will love them!
INGREDIENTS
3 matzo sheets, broken into pieces
2 Tbsp olive oil
Salt and pepper
1 cup grated cheddar cheese

Optional Toppings
Tomatoes
Cilantro
Salsa
Avocado
Sour cream
Green onions


INSTRUCTIONS
1. Preheat oven to 400 F. Line baking sheet with foil, spray with vegetable oil and place matzo pieces over top. Bake for 10 minutes. Add cheese and bake another 5 minutes.
2. Add nacho toppings of your choice and serve.