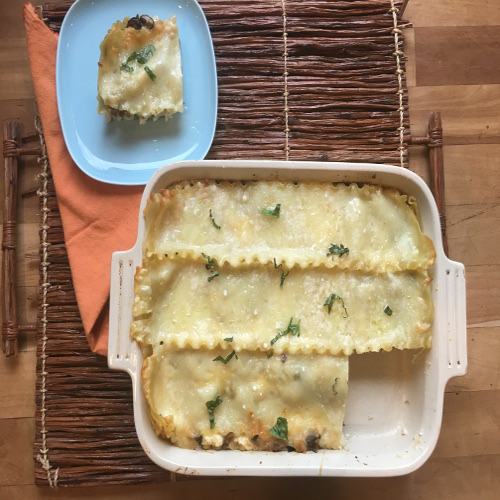 Here's a twist on traditional lasagna.  Mushroom and Burrata Cheese lasagna.  This vegetarian dish promises lots of rich flavours.
INGREDIENTS
9 dry lasagna sheets
2 tsp oil
2 lb mixed mushrooms chopped
1 shallot finely diced
2 cups light ricotta cheese
1/3 cup milk
3/4 cup grated mozzarella cheese
1/2 cup grated Parmesan cheese
Salt and pepper
16 oz. burrata cheese sliced



INSTRUCTIONS
1. Preheat oven to 400F. Spray a 9" x 13" pan with vegetable oil.
2. Cook lasagna in a large pot of boiling water just until barely tender. Rinse well and set aside.
3. In large skillets add oil, mushrooms and shallots. Sauté for 10 minutes or until mushrooms lose their liquid and water has evaporated.
4. In large bowl combine ricotta, milk, 1/2 cup mozzarella and 1/4 cup Parmesan cheese and salt and pepper.
5. Lay three sheets lasagna in bottom of dish. Add half of cheese mixture, half mushrooms and half burrata. Add three more lasagna sheets and repeat with remaining cheeses and mushrooms. Add last three lasagna sheets and sprinkle with remaining mozzarella and Parmesan cheese.
6. Bake for 30 minutes or until top is lightly browned and filling is hot.
7. Let rest 10 minutes before cutting.

NOTES
Serves 12
Prep time: 20min
Cook time 30-40min

Nutrition facts per serving
Calories 345
Fat 12g
Cholesterol 30mg
Sodium 440mg
Carbohydrates 37g
Fiber 1g
Protein 23g