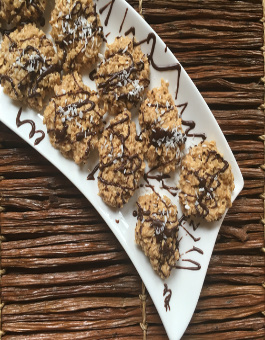 A delicious mix of butterscotch, peanut butter and coconut with no baking, nothing better!
INGREDIENTS
3/4 cup butterscotch chips
3/4 cup natural peanut butter - crunchy or smooth
1 cup quick cooking rolled oats
1 1/3 cup unsweetened grated coconut
Dash of salt
1 oz semi-sweet chocolate


INSTRUCTIONS
1. Add chips and peanut butter together in a glass dish and microwave on low heat for a minute or until chips are melted. Stir until smooth.
2. Add oats, 1 cup of coconut and salt. Mix until combined.
3. Spoon onto parchment paper lined cookie tray with 1 Tbsp measurements.
4. Press to flatten and chill for 15 minutes.
5. Melt chocolate on low heat in microwave about 1 minute. Stir until smooth and drizzle over cookies, sprinkle with remaining coconut. Keep chilled.

NOTES
Makes about 24 cookies

Nutritional Information per Serving
Calories 130
Fat 8g
Saturated Fat 4g
Cholesterol 0mg
Sodium 40mg
Carbohydrate 11g
Fibre 1g
Protein 3g