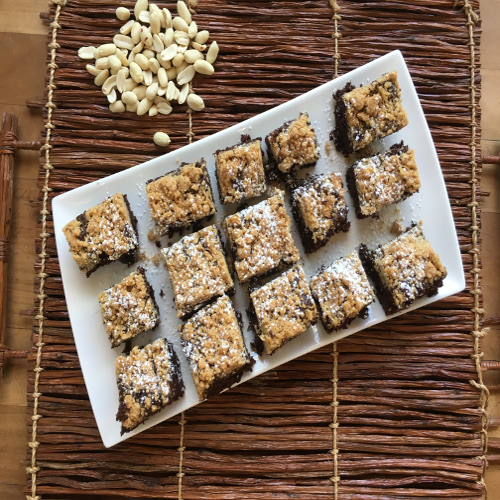 There is no better combination than chocolate and peanut butter!  These brownies are to die for!
INGREDIENTS
Brownies
1 cup granulated sugar
1/3 cup oil
2 eggs
1 1/2 tsp pure vanilla extract
1/3 cup reduced-fat plain yogurt or reduced-fat sour cream
1/2 cup unsweetened cocoa powder
1⁄2 cup all-purpose flour
1 1/2 tsp baking powder
1/3 cup semisweet chocolate chips

Topping
1/2 cup flour
2 tbsp. brown sugar
2 tbsp. granulated sugar
1/3 cup chunky peanut butter
2 tbsp. oil


INSTRUCTIONS
1. Preheat oven to 350F. Spray a 9" square pan with vegetable oil.
2. Brownies: In bowl combine sugar, oil, eggs, vanilla and yogurt until smooth. Add the dry ingredients and mix until combined. Pour into pan and bake for 20 minutes or until tester comes out dry.
3. Topping: mix all ingredients until crumble, sprinkle on top and bake for 20 minutes or just until tester in brownies comes out dry.

NOTES
Serves 12
prep time: 20min
cook time: 40min

Nutritional Information per serving
Calories 190
Protein 3 g
Fat 12 g
Saturated Fat 2.5 g
Carbohydrates 21 g
Cholesterol 20 mg
Sodium 80 mg
Fiber 2 g
Sugar 18 g