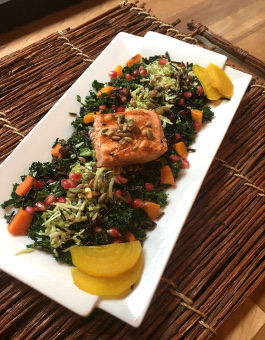 This colourful salad is jam-packed with nutrition!
INGREDIENTS
Maple Apple Cider Dressing
1 tsp minced garlic
½ tsp Dijon mustard
1 Tbsp cider vinegar
2½ Tbsp maple syrup
3 Tbsp olive oil
2 tsp lemon juice
pinch of salt and pepper


Salad
1 yellow beet
2 cups diced butternut squash
1 lb salmon fillet
2 cups thinly sliced kale
4 Brussels sprouts trimmed and grated
1 cup cooked wild rice
2 Tbsp toasted sunflower seeds
1/3 cup pomegranate seeds


INSTRUCTIONS
1. Preheat oven to 425 F. Cut beet into four, wrap beet in foil and bake until soft about 20 - 30 minutes. At the same time, place butternut squash on pan lined with foil sprayed with oil. Bake squash for 15 minutes and beets just until tender about 30 minutes. Let cool.
2. Grill salmon just until cooked to your preference. Set aside.
2. Mix dressing ingredients together. Place kale in large bowl, pour dressing over top and massage kale for two minutes until soft. Add grated Brussels sprouts, rice, squash and garnish with sliced beets, sunflower and pomegranate seeds. Place salmon over top. Serve.



NOTES
Serves 6

Nutritional Information per Serving
Calories 280
Fat 16g
Saturated Fat 3.5g
Cholesterol 40mg
Sodium 110mg
Carbohydrate 17g
Fibre 3g
Protein 18g