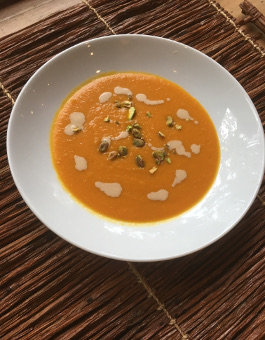 Fall is soup season!  Make this comforting and unique mix of flavours tonight!
INGREDIENTS
1. Heat oil in a large soup pan. Add onion; sauté 5 minutes. Stir in paprika, turmeric, and garlic; cook 1 minute.
2. Add carrots and stir in stock; bring to a boil. Reduce heat to medium-low; cover and simmer 20 minutes or until carrots are very tender. Purée in food processor until smooth. Add more stock if too thick.
3. To make the tahini: Combine the mayonnaise, sour cream, sesame oil, tahini and soy sauce. Set aside.
4. Divide soup evenly among 6 bowls. Drizzle some of the tahini sauce over each serving. Top each serving with pistachios.




INSTRUCTIONS
Soup
2 tsp oil
1 ½ cups onion, chopped
1/2 teaspoon smoked paprika
1/4 teaspoon ground turmeric
2 garlic cloves, chopped
1 pound carrots, peeled and chopped
4-5 cups chicken or vegetable stock

Tahini Sauce
1 Tbsp reduced-fat mayonnaise
1 Tbsp reduced-fat sour cream
1 tsp sesame oil
1 tsp low-sodium soy sauce
1 tsp tahini

Garnish
3 Tbsp chopped toasted pistachios
Salt and pepper to taste

NOTES
Nutritional Information per Serving
Calories 140
Fat 6g
Saturated 1g
Cholesterol 5mg
Sodium 340mg
Carbohydrate 17g
Fibre 3g
Protein 5g