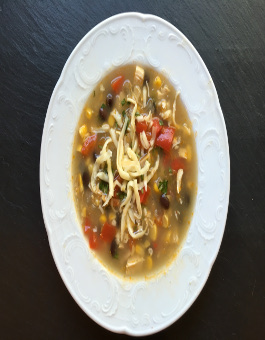 Upgrade your chicken noodle soup for my filling Tex Mex Chicken and Corn Soup this fall.
INGREDIENTS
2 tsp vegetable oil
1 chopped onion
2 tsp minced garlic
1 cup chopped red bell pepper
1 corn cob (kernels cut off) or 1 cup canned and drained corn niblets
1 ½ tsp chili powder
1 ½ tsp cumin powder
Salt and pepper
1 ½ cups diced rotisserie or leftover chicken
1 cup canned, drained and rinsed black beans
½ cup diced tomato
4 cups chicken stock
3 Tbsp chopped cilantro
½ cup grated Monterey Jack cheese or old cheddar



INSTRUCTIONS
1. In large pot, heat oil and add onion. Sauté for 3 mins add garlic, red pepper, corn, chili powder, cumin and salt and pepper and sauté for another 3 minutes.
2. Add chicken, beans, tomatoes and stock. Cover and simmer for 10 minutes. Garnish with cilantro and cheese.

NOTES
Serves 6

Prep Time: 10 minutes
Cook Time: 16 minutes

Nutritional Information per Serving
Calories 210
Fat 9g
Saturated Fat 3g
Cholesterol 40mg
Sodium 420mg
Carbohydrates 15g
Fibre 3g
Protein 19g