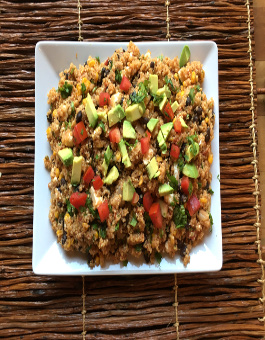 A tasty tex-mex side with a nutritious mix of quinoa, corn, avocado and more – not to mention some spice!
INGREDIENTS
1 cup canned or frozen corn niblets
2 tsp oil
1 cup diced onion
1 tsp crushed garlic
½ minced jalapeno (with or without seeds)
1 cup quinoa
1 cup chicken or vegetable stock
1 (15 oz) can black beans, drained, rinsed
1 (14.5 oz) can diced tomatoes
1 tsp chili powder
½ tsp cumin
Salt and pepper
½ cup crumbled feta
¼ cup chopped cilantro or parsley
1 Tbsp lime or lemon juice
1 avocado, diced



INSTRUCTIONS
1. In small skillet sprayed with oil, sauté corn just until lightly browned. Set aside.
2. In a large skillet, add oil and sauté onion and garlic on medium heat for 3 minutes. Add jalapeno, quinoa, stock, beans, tomatoes, chili powder, cumin, salt and pepper. Bring to a boil, cover and simmer for 20 minutes, stirring occasionally until quinoa is cooked.
3. Add feta, cilantro and almost all the avocado, saving some for the garnish.
NOTES
Serves 6

Nutritional Information per Serving
Calories 300
Fat 11g
Saturated Fat 2g
Sodium 368.5mg
Carbohydrate 40g
Protein 12g