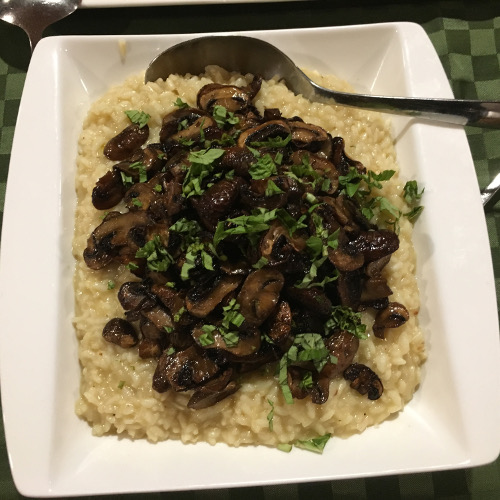 Risotto is an Italian classic.  Rich creamy arborio rice topped with Parmesan.
INGREDIENTS
2 tsp vegetable oil
1 cup finely chopped onion
2 tsp finely chopped garlic
4 cups chopped wild mushrooms (try oyster, shiitake and/or portobello)
1 cup Arborio rice
3 1/2 cups vegetable (or chicken) stock
1/3 cup grated Parmesan cheese
pinch of salt and pepper
1/4 cup chopped fresh basil


INSTRUCTIONS
1. Heat oven to 425 degrees F. Lightly coat baking sheet with oil. Place sliced mushrooms on baking sheet, drizzle with oil, salt and pepper. Roast 20-30 min or until no longer wet.

2. Lightly coat a saucepan with cooking spray add the oil and set over medium-high heat. Add the onion and garlic, and sauté for 5 minutes or until the onions are just tender and lightly browned.

3. Add the Arborio rice and sauté for 1 minute. Add 1 cup of the stock and simmer until the stock has just been absorbed. Continue adding 1/2 cup stock at a time, stirring until absorbed; repeat until all the stock has been used (about 20 minutes in total).

4. Add all but 2 Tbsp. of the grated Parmesan cheese and the salt and pepper and mix well.

5. Scatter mushrooms over top of rice. Garnish with the remaining Parmesan and the basil. Serve warm.

NOTES
Serves 4
prep time 10 minutes
cook time about 35 minutes

per serving Calories 196
Protein 11 g
Carbohydrates 29 g
Fiber 3 g
Total fat 4.9 g
Saturated fat 1.4 g
Cholesterol 5 mg
Sodium 450 mg